Tantalum Comfort-fit wedding band
Representing the timeless nature of love, this 6.5mm tantalum band features an endless Celtic Knot pattern. The newest concept in contemporary wedding rings is our tantalum wedding bands. Made in the USA, our tantalum rings are hypo-allergenic, impervious to breakage and corrosion, and easy to remove in an emergency. Using proprietary technology to create unique design and construction, our tantalum mens wedding bands are beautiful works of art.
*Prices are subject to change based on fluctuations in metal prices and currencies
Book an appointment
General Details:
Ships in 7-10 Business Days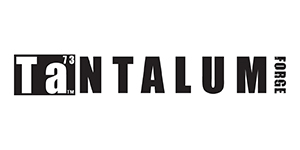 Shatterproof, hypoallergenic and bio-compatible, Forge has utilized Tantalum to create the most wearable contemporary metal wedding bands on the market. Because it cuts so easily, Tantalum is also one of the safest metals to remove in an emergency. Characterized by a richly saturated blue-grey color, Benchmark's Tantalum wedding rings are as elegant and luxurious as their gold and platinum counterparts.